This article will explain how to work with the GeoDatabase and how to add and edit records.
Filtering Records:
You can filter records by either searching widely and then filtering or just by filtering. Once you begin to filter and click apply to adapt the filter to the data, you can further narrow the filter by again adding criteria. In order to start over and un-restrict your data selections, you should press "Clear". This will start a new filter from scratch.
You can filter on date ranges, as indicated below, as well as on various other criteria as show on the left side of the screen.
How can I search records in a date range?
When you search records you can apply filters, which will find or narrow your search. Here is an example of using the date range feature: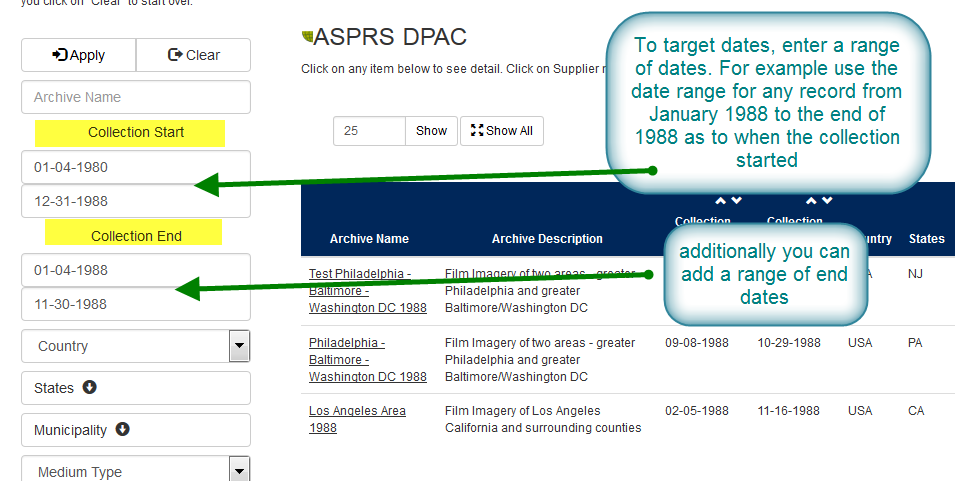 ..
How Do I sign up to submit my information and listings?
Click on the My Account button, where you will find a link to register. (Don't have an account).
I signed up but I can not add my listing or add any records.
In order to add suppliers or listings, you must be approved to be in the group of those users who are allowed privledges to work in the database. Please contact us if you were not approved within 2 days of your registration.
How Do I edit my listings?
If you own a record you can edit or delete it by using the icons on the far right of the screen, the pencil for edit, and the "X" to delete it.
You can add a record (including adding yourself as a supplier) by clicking on the "ADD" button in the middle of the top navigation area. This is the same for adding records to the main database.
I have a database of records, is there a way that I can add all of them at one time?
Yes you can, please contact us for a template which will allow you to submit massive amounts of data to our system. In our system please note the following input:
1. all dates must be formatted as 6/1/2015
2. Do not use any commas or simicolons in data fields. All files must be pipe delimited. You can create a file in excel and then save as a delimited csv. Then open the file in notepad and use replace to replace your delimiter with the pipe character ( | ).
3. When submitting files, please submit in .txt format as per above.
4. You must have your userid on the file under the column "userid", to find it go to My Account and look at the top of the page for your userid.
I am a student working with DPAC, how can I add and edit records?
If you are allowed as a "List Manager" please contact us for your login to the backend.
If you need further assistance, please use the contact button on the top navigation of this site.